The Golden Boot
Triumph and Trauma of a Coach
M. K. Kaushik with K. Arumugam
Page 1
Page 2
Page 3










Page 4
Page 5
Page 6

Closing Words

Had India retained the Bangkok team, with minor changes, it would have easily overcome Pakistan. Each victory over Pakistan would have helped bring back fans to our national game. At least for the first leg of the series, the same team could have been deployed.

The IHF committed a historical blunder in letting go of this godsend opportunity. At the altar of ego, it sacrificed the game of hockey. In order to self-serve, they self-destructed.

Page 7
Page 8
Page 9
Page 10
Page 11
Page 12

hat counts in sports is victory, nothing less that that. The victory can come in a minor tournament, or can come through tie-breaks. But a victory is a victory.
That's what we earned in Bangkok. This historic win had the potential of reviving our national game, with the resulting improvement in hockey's market appeal. The mood was upbeat. There was a fresh wave of enthusiasm in the public for hockey. Everyone was talking about it. Even politicians started evincing keen interest in the game, as witnessed by chief ministers gracing the matches in venue after venue.
It was time to build on this hockey euphoria, take the game to the masses, and bring back the crowd in the stands. And, in the process, encash its popularity.
Our players were brimming with confidence as never before. Seldom in their lifetime did India find itself ahead of Pakistan. While the visitors were in the process of rebuilding, the Indian team was a well-knit and well-set outfit. The series win was almost a given. Such a environment would have been ideal for marketing the game.
There could not have been a more opportune time to rekindle the passion for the game than a grand series with arch-rival Pakistan. Had India retained the Bangkok team, with minor changes, it would have easily overcome Pakistan. Each victory over Pakistan would have helped bring back fans to our national game. At least for the first leg of the series, the same team could have been deployed.
The IHF committed a historical blunder in letting go of this godsend opportunity. At the altar of ego, it sacrificed the game of hockey. In order to self-serve, it became self-destructive. I have not come across such a self-destructive set of officials in any other sphere of sport in India.
India lost the first three matches of the India-Pakistan series, in front of tens of thousands of home fans, including political dignitaries in the stands.
15,000 fans, including union minister L. K. Advani, were present when Pakistan beat India 4-3 in Delhi. 12,000 fans, including chief minister Digvijay Singh, were present when Pakistan whipped India 4-1 in the second test in Bhopal. Then it was the turn of chief minister Chandrababu Naidu to witness Pakistan maul India 5-2 in the third test in Hyderabad. Pakistan eventually won the nine-match series 6-3.
Pruning is a necessary process of team building. But what the IHF did was a complete overhauling of the team. The ego-ridden IHF plunged headlong into a drastic overhaul based not on game imperatives, but on personal vendetta.
Mr. Gill, the sport you govern is our national game. However, the manner in which you govern it is a national shame. We, the coaches and players, lived through hell. Indian hockey deserved better.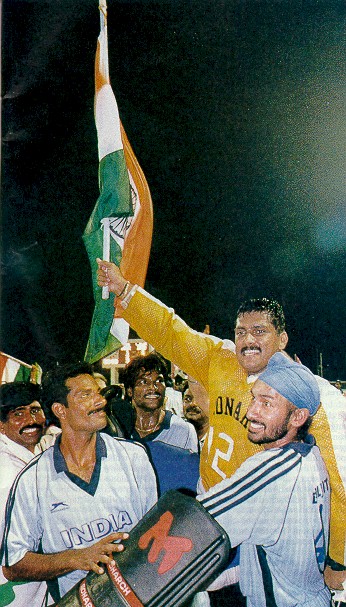 Back Cover of The Golden Boot