The Golden Boot
Triumph and Trauma of a Coach
M. K. Kaushik with K. Arumugam
Page 1
Page 2
Page 3










Page 4
Page 5
Page 6

Mr. Gill's Mouth

What a way to solve a problem! How heroic of Gill. I don't know if Gill is the president of a sports federation or its Director General.

I ask the nation - is that a fair and correct response from Gill? If a player pleads for his due, does it mean he is disrupting the series? Is disbanding the team the only way to solve this issue? Are good teams available in the open markets, stocked in ready-made shops, for Gill to have his choice?

Page 7
Page 8
Page 9
Page 10
Page 11
Page 12
n an interview with Outlook magazine (August 2, 1999), Dhanraj Pillai was asked, "What is the fundamental problem between you and the IHF?". Dhanraj replied, "The senior players know how much money the IHF makes through tournaments and other sources. All I am saying is that the players should get their due."
If Dhanraj is so eloquent, call Gill be far behind? In a television interview on Sports Update programme (July 30, 1999), Gill gave his version of the problem: "Dhanraj tried to disrupt the series. I told him - Okay, make your demand. I will disband the team and send an equally good team instead. That is when they calmed down."
What a way to solve a problem! How heroic of Gill. I don't know if Gill is the president of a sports federation or its Director General.
I ask the nation - is that a fair and correct response from Gill? If a player pleads for what he thinks is his due, does it mean he is disrupting the series? Is disbanding the team the only way to solve this issue?
Dhanraj Pillai was the captain of the Indian team at that time. He was not pleading for himself alone, but for the whole team. How will Gill prepare an 'equally good team'? Are good teams available in the open markets, stocked in ready-made shops, for Gill to have his choice?
The IHF did not want to face the scenario of players starting to demand money on equal terms. The easiest way out was to get rid of the potential trouble makers.
In the IHF's line of thinking, the omitted players will scream for a while. There will be a few bad lines in the media for a month or two. In course of time, the players' voices will be drowned out. Those who want to make a comeback will have to kneel before the IHF to make it to the Indian team again. But if they want to hold on to their prestige and pride, let them confine themselves to the four walls of their homes. Wearing the Indian colours will be out of their bounds once and for all.
As was his wont, Gill tried to play smart all the while. First he took recourse to the 'rest and restore' theory. Then came his astounding pronouncement, "Four of them will never again play for India."
Then a police theory was propagated - that players and coaches fought between themselves in Bangkok, and the police had to be brought in. It was a nonsensical theory, considering that the manager appointed by him had applauded the players for maintaining excellent discipline throughout the tournament.
Then Gill enlightened us with a path-breaking coaching gem, "Continuity in coaching does not work in India." To support this premise, he went on to say, "In football, coaches are removed even after one match."
These are nothing but high-handed statements, bombastic words and a litany of lies. Gill's reasonings were shallow, callow and hollow. But truth has the unique habit of coming out in the open, no matter how skillfully one tries to shroud it with layers of lies.
I am reminded of, and reconciled to, what Shakespeare's Macbeth prophesised, "Life is a tale told by an idiot, full of sound and fury, signifying nothing."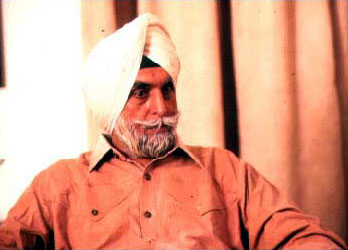 K. P. S. Gill - High Handed and Bombastic Lies