The Golden Boot
Triumph and Trauma of a Coach
M. K. Kaushik with K. Arumugam
Page 1
Page 2
Page 3










Page 4
Page 5
Page 6

Ganjey Ko Samjhao

(Convince The Baldie)

On reaching Bangalore, I was shocked to find the probables list had expanded from 24 to 31. The IHF had played an unbelievable mischief on me by forging my specimen signature on this revised list of 31 probables.

The IHF wanted to make it seem like I wanted a broader camp. In reality, the IHF had forged this letter to send another Indian team, and a hand-picked coach, to a pre-Asiad tournament in Bangkok.

Page 7
Page 8
Page 9
Page 10
Page 11
Page 12
observed in my short association with Jyothikumaran his penchant for people from Mumbai. Joaquim Carvalho, Merwyn Fernandes, Mir Ranjan Negi, Cedric D'Souza - these were some of his favourites. Later I learnt that he was also attempting to dislodge the secretary of the Bombay Hockey Association, K. L. Passi, and replace him with any one of the above players.
In the subsequent days, all of these players barring Cedric would give me moments of agony. All at the behest of Jyothi. That wily man had a hand in everything.
During the Commonwealth Games, Jyothi asked me to shortlist three names for the position of a specialist goalkeeper coach. I came up with the names of Charles Cornelius and Ashok Diwan. I was a bit slack in coming up with the third one when Jyothi suggested Mir Ranjan Negi. I agreed with him, and was happy that that I would be getting a goalkeeper coach in addition to an assistant coach, and that they would complement each other.
Mir Ranjan joined me for the Asiad camp, however, as it turned out later, at the expense of assistant coach Ramesh. I still do not know the reasons for Ramesh's sudden falling out of favour with the IHF.
On November 22, I left Delhi for attending the last camp in Bangalore. My 71-year old mother wished me, "Jeet Ke Aana Beta" (return victorious). On reaching Bangalore, I was shocked to find the probables list had expanded from 24 to 31.
The IHF had played an unbelievable mischief on me by forging my specimen signature on this revised list of 31 probables, and then faxing to the concerned government departments. The IHF wanted to make it seem like I wanted a broader camp.
In reality, the IHF had forged this letter to send another Indian team, and a hand-picked coach, to a pre-Asiad tournament in Bangkok. An Indian-born gentleman had approached Jyothi to send an Indian team for this tournament. They judged my line of thinking that I would not send my players to a tournament with hardly a month left for the Asian Games. They knew that I was a hard nut to crack. In their desperation to send a team, the IHF forged this letter.
The man for their hour of need turned out to be my Mumbai friend Merwyn Fernandes. In our playing days in the early 1980s, we had built a good rapport by virtue of our playing positions - I was the right-winger and he was the right-in. Our understanding extended beyond the playing field as well.
That is why, perhaps, Merwyn appeared apologetic to undertake this mission. He knew that he was dancing to someone else's tune. I was at a loss to understand why he did something that his conscience did not permit? What was the pressure he was subjected to?
Over the years, I have observed players' vulnerability to pressure. The majority of them used to bend over backwards to please the powers that be. They were ever-willing accomplices to whosoever was in the seat of power.
Merwyn was a good player, a hard worker, but he, like many of his generation of Indian players, doesn't stand up to authority. This has always been his persona.
Merwyn proceeded to take an Indian team that was hand-picked by Jyothi for the pre-Asiad tournament in Bangkok. This team included eight of my first choice players for the Asian Games. Till the pre-Asiad team returned to the camp, after 11 days, I was left with only eight players in my camp.
Nowhere else but in India would such a bizarre arrangement have happened. Our grand plan of improving the physical fitness and having strategic sessions with the players went haywire. Joining me in my silent mourning were the scientists in the SAI. For these people who value every calorie gained or lost, who measure each second made or lost in sprints, and who monitor each stretch gained or lost, such an abrupt break was not only undesirable, but also unpardonable.
In another incident, which occurred during the last camp, Jyothi rang me up and asked me to take Joaquim Carvalho as my assistant coach in the place of Ramesh Parameswaran. I told him a big no. Joaquim's habits do not suit me.
Then Jyothi told me that one A. S. V. Prasad wanted Joaquim. Prasad was the then executive director (team) in the Sports Authority of India. It was Jyothi's habit of taking some big name to support his case. But it did not work with me. I told Jyothi, "Why don't you make Joaquim the chief coach in my place? There is no sense in my continuing."
Hearing this, Jyothi changed his tune and asked me to discuss this with Negi. I made it clear to Negi that I would walk off if anybody was thrust on me against my wishes at this late stage.
Negi then went and talked to Jyothi. On his return, I asked him the details. He said that the most valuable advice he got from Jyothikumaran was "Ganjey Ko Samjhao" (convince the bald head).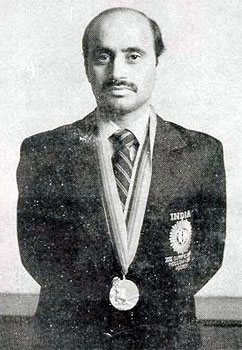 M. K. Kaushik with his Olympic Gold Medal