The World's Hockey Champions 1936
By Olympic Gold Medallist M. N. Masood
Page 1
Page 2
Page 3










Page 4
Page 5
Page 6

Port of Call in Aden

The hockey ground belonged to the 5/14 Punjab Regiment, which had been transported to Aden during the Italo-Abyssinian war.

The Regiment members turned out in large numbers when they knew who we were. They were disappointed to see us off without doing anything for us by way of an Indian meal.

We were, however, served with cold drinks, which was welcomed by our parched lips.
Page 7
Page 8
Page 9
Page 10
Page 11
Page 12

he arrival of Aden on July 2nd was hailed with delight by all. Aden gave our feet the feel of land which we longed for so far. Otherwise, it proved to be an uninteresting place. Surrounded by bleak and barren mountains, with the hot wind of the great Arabian desert blowing across, with no trees or foliage in sight, small one-storied houses, long-skirted Arabs or Abyssinians, dark-veiled women, poverty in evidence everywhere - such was our impression of Aden which we saw on our way to the hockey ground and back.
An open-air cafe in the marketplace, noisy and dimly lit, faces pale and haggard over cups of coffee or iced-water, was another sight never to be forgotten.
Mr. Jagannath went in a taxi to arrange a hockey ground for our practice, and we followed him in a bus. We found the ground though Mr. Jagannath did not, and we met him only on our return to the ship and after we had done a little running about to exercise our legs.
The hockey ground at that time belonged to the 5/14 Punjab Regiment, which had been transported to Aden at the beginning of the Italo-Abyssinian war. The Regiment members turned out in large numbers when they knew who we were, and were right glad to see us there.
They had not known of our arrival, and were disappointed to see us off so shortly without doing anything for us by way of an Indian meal, which would have been very welcome to us. We were, however, served with cold drinks, which proved still more welcome to our parched lips.
The ship sailed from Aden at 9:30 pm after a halt of 5 1/2 hours, and our spirits rose with the comforting thought that from now on we would have calm seas. It was interesting to see the change it brought in us. We had dared not leave our cabins until a day before, but now ran joyfully all over the decks.
Still more noticeable was the change in the sea. It appeared that there was some line of demarcation which had been crossed overnight, bringing us a promise of new life and new joys; such calmness prevailed over the great expanse of water.
But our joy was tempered by the utter nonchalance of our fellow passengers, who took little or no notice of us, and some rather looked down upon us. By observing them, one wondered whether these hard faces were even aware of the presence of a crowd of youths sailing with them on the same boat.
A majority of such passengers were military officers, retired or going on leave after spending a considerable period of' their lives in India, representatives of which were their fellow passengers. We were thus left to ourselves and our activities; it would have been soothing if we had been the only passengers on the ship.
Some foreigners other than the English evinced considerable interest in our activities, and were always ready in the morning to take a snap or two of our physical jerks/exercises and hockey practice. One such snap we saw in a German newspaper after our arrival in Berlin.
We also had several university men bound for England for the ICS examination, which would put them, on their return, in a service which is regarded as the highest ideal of Indian youths. The service carries dignity and responsibility, and it was therefore not surprising to see our future ICS men appearing dignified and with a pre-occupied expression on their faces. Coming events cast their shadows before.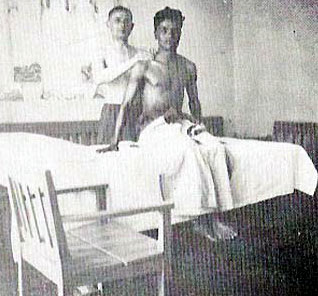 Shahabuddin and our masseur in the Olympic Village