The World's Hockey Champions 1936
By Olympic Gold Medallist M. N. Masood
Page 1
Page 2
Page 3










Page 4
Page 5
Page 6

Sendoff From Bombay

A very successful dance was arranged in the evening at the Taj Mahal hotel. Hockey enthusiasts of Bombay turned out in such great numbers that it became difficult to dance.

At midnight, the Mayor of Bombay welcomed us to his city and wished us bon voyage and a successful return.

The dance was carried on till three in the morning, but we left the hall after midnight.
Page 7
Page 8
Page 9
Page 10
Page 11
Page 12

e arrived in Bombay on June 25 at 9 am, and were put up in the Taj Mahal Hotel. The Bombay Hockey Association and the Bombay Olympic Association invited us to lunch at Green's on the same day.
After the lunch, Mr. Pavri, the Parsi Cricket veteran, wished the guests bon voyage and a successful return home. A section of the hosts cried, "Dhyan, speak please." But neither did Dhyan please his fans, nor did the manager respond to the host.
A very successful dance was arranged in the evening at the Taj Mahal hotel by the two associations. Hockey enthusiasts of Bombay turned out in such great numbers that it became difficult to dance. At midnight, the Mayor of Bombay, who was present throughout the function, welcomed us to his city and wished us bon voyage and a successful return.
Messages to the same effect were also read from H. E. the Viceroy and H. E. the Governor of Bombay. The German Consul made an impressive speech promising a very warm welcome in Germany and a happy sojourn there, finishing it with "May the better side win the tournament."
Mr. Jagannath thanked the Mayor for the warm reception, and requested him to convey to H. E. the Viceroy and H. E. the Governor of Bombay our gratitude for their very encouraging messages on the eve of our leaving the country. He then proceeded to thank the German Consul and assured him that every member of the contingent was looking forward to meeting the youths from Germany and from every part of the world who would be competing in the Olympic Games. He stated that whatever were the results, India would play the game in the best of sporting spirit.
The dance was carried on till three in the morning, but we left the hall after midnight.
The Germans in Bombay invited us to tea at Green's the next evening. It was a very informal function, though the Mayor of Bombay was present. At the request of our hosts, Mr. Jagannath made us stand in a prominent place and introduced us one by one to all those present at the function. The introduction was thorough but long drawn out, resulting, after some time, in a kind of apathy amongst the audience. Introductions at such functions should be short and humorous, not dry and formal, which do not suit the temperament of a crowd gathered to pass a pleasant hour.
Next morning, with our mackintoshes on our arms and our luggage in the custody of the agents of Thomas Cook & Co., we left the hotel with instructions to reassemble at the Ballard Pier in the evening. Each of us spent the day as he liked, but simple boys like Ronak Singh and Akram Rasool, members of the athletic contingent and strangers to Bombay, must have found themselves at sea when thus left to roam about in an unfamiliar place.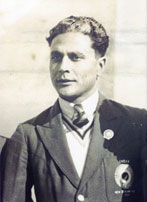 Photograph of the author