The World's Hockey Champions 1936
By Olympic Gold Medallist M. N. Masood
Page 1
Page 2
Page 3










Page 4
Page 5
Page 6

Practice Matches

in Northern India

The excitement of Delhi's citizens at this unexpected victory, the immense joy of her players and the pride of her selectors may better be imagined than described.

The news of the defeat flashed through India and even abroad, where the Germans and the Dutch, our closest rivals in Berlin, were keenly watching every activity of the Indians. It seemed that the Indians were not invincible after all.
Page 7
Page 8
Page 9
Page 10
Page 11
Page 12

he Indian Hockey Federation communicated to all the affiliated associations in the first week of June, and also published an announcement in the various newspapers of India, that funds were at last available to send an Indian hockey team to Berlin, where the Olympic Games would be held. To compete in the Olympic Games, defend the very proud title of world champions, and see Europe - could anything look brighter to us in the world?
Eleven of us met in Delhi on the June 16, 1936. Cullen, Nimal and Phillips would join us in Madras, Sher Khan in Bhopal, and Gupta, Allen and Mitchie in Bombay.
India 1 - Delhi Select XI 4
India played her first game of the Indian tour against Delhi Select XI on June 16 at 6 pm on ground No.1 outside Mori Gate. It had rained for about two hours earlier in the afternoon, and it was feared that the match might be abandoned.
But the weather cleared in the evening, and the game started half an hour later than the notified time. India could, at no period of the game, shape herself a fighting side, or show her superiority in any of its departments. She was not defeated, she was routed.
Delhi was beaten previously 0-12 in 1932 by an India team that won the Xth Olympiad at Los Angeles, and had never been regarded as a great hockey playing centre. The excitement of her citizens at this unexpected win, the immense joy of her players and the pride of her selectors may better be imagined than described.
Why was Mohammad Hussain played as inside-right, a position in which he had never played before? Why was Emmett put in goal, when he had been playing as as a forward? Even at the interval, when India was one goal down, and it was apparent that she needed reshuffling of her players, no changes were made. We might not have won despite the reshuffling, but we would have had the consolation to know that we made the best of the circumstances.
The news of the defeat flashed through India and even abroad, where the Germans and the Dutch, our closest rivals in Berlin, were keenly watching every activity of the Indians. It seemed that the Indians were not invincible after all.
The Indian team was as follows: Emmett; Tapsell and Gurcharan Singh; Ahsan, Masood and Gallibardy; Shahabuddin, Mohammad Hussain, Dhyan Chand, Jaffar and Peter Fernandes.
India 7 - Jhansi Heroes 0
We left the same night for Jhansi, and played against Jhansi Heroes the following day, winning 7-0. The Jhansi Heroes team was without its heroes, Dhyan and Roop, and therefore no match against a select India team, if we could call ourselves a team at that stage. Dhyan and Roop were playing in their own ground against their own team, and could do things as they liked.
It was decided to have another goalkeeper with us, and a wire was accordingly sent to Mitchie to join us in Bombay. We left Jhansi at 2 am by the Grand Trunk Express.
The Indian team was as follows: Fernandes; Tapsell and, Gurcharan Singh; Ahsan, Mohammad Hussain and Gallibardy; Shahabuddin, Emmett, Dhyan Chand, Roop Singh and Jaffar.
India 3 - Bhopal State XI 0
We arrived in Bhopal on June 18 at 6:51 am, and played the same evening at 6:00 pm. Rain spoiled what otherwise should have been an interesting match, which was played before a fairly large crowd including H. H. the Nawab and Begum of Bhopal, Sir Joseph Bhore, former president of the Indian Hockey Federation, and leading state officials.
Bhopal had taken to hockey seriously, and had already proved herself capable of playing first class hockey in the Inter-Provincial tournament. Despite her two Olympic players, Sher and Ahsan, playing for the India team, Bhopal showed herself a shade superior in the first half of the game, where there was no scoring from either side.
In the second half, the Bhopal players appeared to be tired and slackened their pace. The defence wavered and India pressed home the advantage by scoring three goals.
Nawabzada Rashidul Zafar Khan, President of the Bhopal State Hockey Association, entertained us to a sumptuous dinner the same evening. We left Bhopal for Madras by the Grand Trunk Express on June 19.
The Indian team was as follows: Fernandes; Tapsell and Gurcharan Singh; Ahsan, Mohammad Hussain and Gallibardy; Ahmad Sher Khan, Emmett, Dhyan Chand, Roop Singh and Jaffar.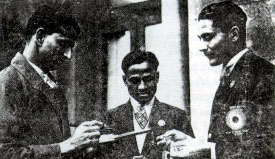 Dhyan Chand (center) & M. N. Masood (right) signing autographs to raise money for the 1935 tour of NZ & Australia