The World's Hockey Champions 1936
By Olympic Gold Medallist M. N. Masood
Page 1
Page 2
Page 3










Page 4
Page 5
Page 6

Sight-Seeing in Paris

Of the places visited, the Eiffel Tower impressed us the most. Most of us had never seen a structure raised to such a height. Here was a naked steel structure more than treble the height of Qutab Minar.

Innumerable electric bulbs were studded on it for an illumination on Bastille Day on July 14, two days after our departure from Paris. What a sight it must have presented on that night!
Page 7
Page 8
Page 9
Page 10
Page 11
Page 12

he train journey to Paris passed through a beautiful panorama of woodland, pastures and richly cultivated fields. We were at once struck by the abundance of greenery and food products of the land, in comparison to the non-existence of arable lands which a traveller in India finds in plenty.
We passed the day dozing, sleeping and discussing the respective merits of the Indian and French railways. As the latter railways are not provided with berths on which one could lie full-length as we do in India, the home country railways were given the preference.
Paris was reached in the evening, and found us tired and ravenously hungry. En route we only had breakfast, as the manager perhaps thought it better to reach the first city of France with an empty stomach.
We were taxied to a hotel, where on account of lack of sufficient accommodation, the party was split up into two, and lodged in two different hotels. However, we had our dinner together, and after taking into consideration the time at our disposal, we decided to go and see the Sphinx and the Colliseum, and get an insight into the Parisian night life.
Half an hour's taxi drive brought us to the former place. After purchasing the tickets, we were ushered into a crowded hall and our eyes met with an unaccustomed sight.
Young girls, some twenty in number, a piece of silken cloth around their loins, were dancing in pairs. They were almost naked, as the silken cloth which might have been put on to avoid an infringement of some law, concealed nothing to the hungry eyes of the passionate.
We sat there about half an hour, drinking our lemonade, eyes downcast, much to the surprise and merriment of the girls, who were doing their very best to entice us to become one of their very welcome customers.
The order from the manager to leave the room was obeyed as very few orders had been. We left the place amidst, what appeared to us, taunting remarks from the girls at our apparent lack of manliness. We were glad to inhale once again the pure and fresh air of the street outside.
And now to the Colliseum. This was a place for dancing, the only new thing to us was the inclusion of taxi girls in the apparently harmless dances.
These girls could be hired as dancing partners by paying two francs (about six annas) for each dance, and they were conspicuous by the uniformity in their dresses. Some of our boys had several dances with these girls before we returned to our hotels after midnight.
The next day was spent in sight-seeing. We had only a few hours at our disposal, and these were utilised as best we could. The Eiffel Tower, Notre Dame, Arc de Triomphe and Folies Bergere were visited in turn, and a short trip by an underground train finished a very enjoyable day.
Of the places visited, the Eiffel Tower, on acount of its amazing height, impressed us the most. Most of us had never seen a structure raised to such a height, and could only think of it in terms of the Qutab Minar of Delhi.
But here was a naked steel structure, more than treble the height of Qutab Minar. Innumerable electric bulbs were studded on it ready for an illumination on the anniversary of Bastille Day on July 14, two days after our departure from Paris. What a sight it must have presented on that night!
The Folies Bergere is an opera house. The performance had already been started when we arrived there. It was full of music and dance and fun. There was, however, a pantomime which fascinated all of us.
As far as we could understand it, it was a court scene of a French queen. There she appeared haughty and majestic, beautiful but disdainful, in flowing garb of green, amidst an obeisance from her courtiers.
One by one they presented themselves before her for her favours, chivalrous and passionate and full of vigour, vitality and manhood. One after another the queen dismissed them, some with a slight mark of favour, others with disdain, till the favourite appeared.
She gave him her hand, which he kissed passionately. The kiss seemed to thrill her, and with a queenly jerk of her shapely shoulders, she slipped out of her robes and stood erect, like a statue, almost stark naked. She then began to make certain movements showing her supple naked form to the best advantage. Her lover followed every movement of hers with loving eyes till these two voluptuous souls could not keep themselves apart and fell into each other's hot embraces.
While this scene was being enacted amongst the principal actors, the other courtiers were enjoying themselves much in the same way as the queen and her lover, with the other ladies of the court also almost stark naked.
Our train left Paris at 11:45 pm, and no sooner had it started than we went to sleep. No sleeping accommodation was arranged and we made the best of what space we legitimately had to ourselves. Nevertheless, we slept soundly.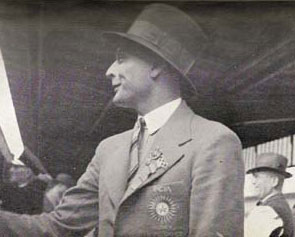 Author snapped unaware at some station in Germany