The World's Hockey Champions 1936
By Olympic Gold Medallist M. N. Masood
Page 1
Page 2
Page 3










Page 4
Page 5
Page 6

Arrival in Berlin

We arrived in Berlin on the evening of July 13. None of us will ever forget the reception that awaited us at Berlin station.

The national anthem was played by the State band, and a voice on a microphone welcomed us in German language, finishing the short welcome with "Heil Hitler, Heil Hitler".

The band and a small detachment of the military chorused with one voice "Heil, Heil".
Page 7
Page 8
Page 9
Page 10
Page 11
Page 12

he arrival of German territory heralded a host of officers for an inspection of passports. At Aachensüd, we were asked details on the amount of foreign money other than German currency we were carrying with us. Our passports had to be produced before the officer, who recorded the foreign money we had on a separate form and sealed the passports.
This procedure seemed very novel to us in the first instance, but on consideration, we realised that this was part of the German Government's fiscal policy, where they must know how much money a visitor spends in their country.
All that day, the thirteenth of July, we sped through the west of Germany. This part of her is the centre of coal and iron industries, palpable signs of which were seen in the form of myriads of chimneys and factories. The famous Krupp Co., which supplied a major portion of war materials to Germany during the Great War, is in Essen, which we passed en route.
The land in Germany was quite as richly cultivated as that of France. Our eyes that were accustomed to the plains of India, acres and acres of her land uncultivated or sparsely cultivated, opened with amazement at the fertility of the German soil.
We arrived in Berlin on the evening of July 13. None of us will ever forget the reception that awaited us at Berlin station. Dr. Diem, Chairman of the Organising Committee of the Olympic Games and Herr Evers, the President of the German Hockey Association, welcomed us at the station.
The national anthem was played by the State band, and a voice on a microphone welcomed us in German language, finishing the short welcome with "Heil Hitler, Heil Hitler". The band and a small detachment of the military chorused with one deep-chested voice "Heil, Heil".
From the station, we were led to the Municipal House where we were received by the Mayor. He spoke in German, which was translated into English by a German officer, Captain Fanelsa, who afterwards proved to be our attache. The Mayor welcomed us on behalf of the citizens of Berlin, and assured us that every effort would be made to make our stay in their midst as pleasant as possible.
Mr. Jagannath thanked the Mayor and observed that we were all looking forward to meeting the German youths about whom we had heard so much, and the youths of other nations.
The Mayor could understand the reply and added, "I am thankful to you for the good words". He then presented a bronze medal to Dhyan Chand, and a beautifully bound book on the city of Berlin in the German language to each of us, including Dhyan.
We left the Municipal House at 6:00 pm for the Olympic Village in a military bus, led and followed by military officers on motorcycles, and arrived in the Olympic Village an hour later.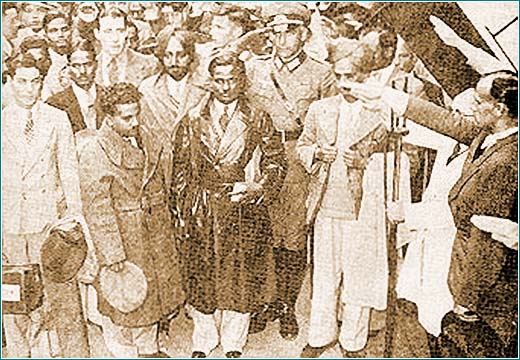 The Indian team arrives in Berlin