Hockey Personality of the Century
S. Thyagarajan - Sportstar Magazine (January 1, 2000)
The icon of Indian sport before World War II was not a cricketer; he was a hockey genius called Dhyan Chand. He symbolised the apotheosis of skill with the hockey stick. No player in the 20th century commanded such awe, admiration and charisma as him.
Before World War II, India had already won three gold medals in the Olympics. Dhyan Chand was instrumental in accomplishing this, as captain in 1936 at Berlin. If the war had not intervened to cause a 12-year Olympic hiatus, India could have won two more gold medals.
Dhyan Chand cast a spell of eastern magic. If India acquired an image as a sporting power in the first quarter of this century, it was Dhyan Chand's proficiency that provided it. In the three successive Olympics between 1928, when India made its debut, and 1936, Dhyan Chand exhibited to the world a craft whose manifestation was perceived as the Alpha and the Omega of Oriental mystique, an art that defied description. It was simply untouched and unparalleled.
Unbelievably simple and a perfect specimen of a gentleman, Dhyan Chand was acutely embarrassed by the avalanche of praise and adulation which projected him as more than a mortal.
"I realise that I am not a very important man, good enough to write an autobiography, but I feel tempted to let my friends know a little of my life," he wrote in the preface of his priceless book, The Goal, published by Sport & Pastime, the predecessor of The Sportstar.
Hockey for Dhyan Chand was a religion, invoking in him the passion of an ardent devotee. His rise from the ranks of an ordinary Sepoy to the level of a Major was purely on account of his skills exhibited in hockey.
Born on August 29, 1905, at Allahabad, in a family with a military background - his father was a soldier - Dhyan Chand settled down in Jhansi. A subedar major, Bale Tiwari, was Dhyan's 'guru' in the first Brahmin Regiment, which was disbanded later and merged with the Punjab Regiment.
When an Indian army team made its first hockey trip abroad, to New Zealand in 1926, Dhyan Chand was a part of it. From then till the late stages of 1959, Dhyan Chand was the monarch of all he surveyed. India's incandescent phase in hockey started on May 17, 1928 at Amsterdam with a 6-0 triumph against Austria. And this signalled the Olympic saga, and the glorious era of Dhyan Chand.
More than his personal conquests, which earned Dhyan Chand such sobriquets as "Magician" and "Wizard," his achievements inspired a whole generation of players. If hockey was projected as India's national game, it was mostly due to the aura of Dhyan Chand.
A measure of Dhyan's contribution, statistically of course, cannot be better exemplified than by the number of goals scored by India in 1932, before and after the Los Angeles Olympics. The total was 338, in which Dhyan Chand's share was 133. In 1935, on the New Zealand/Australia tour, Dhyan scored as many as 201 goals in 48 matches.
The war years stifled Dhyan Chand's moments of glory. Under independent India, he still made a tour of East Africa at the age of 42, scoring 61 goals in 22 matches. Honoured with the Padma Bhushan in 1956, he took charge as the chief coach of NIS, Patiala, between 1961-69. He died on December 3, 1979.
"I always felt that a man essentially is a man, and it is unbecoming of him to show off and to make others feel that there was snobbery in him," Dhyan Chand wrote in his autobiography. And he lived up to every word of it.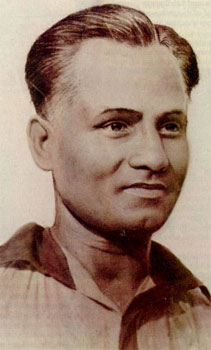 Dhyan Chand - Hockey Personality of the Century