Player of the Century
Subroto Sirkar - World Hockey Magazine (July 2000)
One of the earliest photographs of Dhyan Chand is in a group photograph taken in England in the spring of 1928, when the All-India side played some matches en route to the Continent and the Amsterdam Olympic hockey tournament.
Standing behind centre-half Eric Pinniger, with his puffed-up hair, and just next to the tall, heavily-built full-back Leslie Hammond, Dhyan looks almost like a pygmy. He was in build a small man; yet he would loom like a colossus in the world of hockey.
Suppose there had been an Olympic Games in 1940, in Tokyo or at Helsinki, Dhyan Chand would have pre-empted Leslie Claudius's status as hockey's first quadruple Olympian - and likely have been a gold medallist four times in a row.
In 1940, Dhyan Chand was 35; past his prime, maybe, but still very good. He was good enough even at 42, on his last foreign trip - to East Africa in 1947-48.
He was hardly a passenger on this tour. In 22 games, the veteran scored 61 goals, more than any other forward save K. D. Singh 'Babu', who later was to lead India in the 1952 Olympics.
That Dhyan's international career, which began with the Army tour of New Zealand in April-June 1926, spanned 22 years is in itself a remarkable achievement.
The Olympics was the only international tournament in that era. Dhyan won gold medals at Amsterdam (1928), Los Angeles (1932) and as captain in Berlin in 1936. As a centre-forward, he scored 36 goals in 12 Olympic matches.
In an age when long distance travel was by ship, Dhyan played in Australia, New Zealand, North America, Africa, Singapore, Japan and all over Europe. Thousands of hockey fans the world over could say that they had witnessed his legendary wizardry with the stick.
In Dhyan's heyday, India were head and shoulders above other nations. Thus, the fact that Dhyan Chand is so revered in his native land in one proof of his greatness.
India had several leading performers in the period of domination up to 1960, and there were six other players who were in three Olympic gold winning sides. But Dhyan Chand was extra-special.
In the 1970s, Ashok Kumar played in two Olympic Games, and scored the winning goal in the 1975 World Cup final. But to the hockey world, Ashok Kumar remained Dhyan Chand's son.
Conditions were different in the Dhyan Chand age. Claudius's words still echo in my mind: "I'd have loved to play on artificial grass. It is more conducive to fast, skillful hockey."
In Dhyan's time, the field could be good, moderate or poor, and weather changes could alter properties drastically. If it drizzled, the pitch could be slippery, calling for one type of footwear. If it had poured, the ground could turn pretty heavy. Dhyan Chand was a master on them all.
Before the advent of the modern, small-crook stick, much had been made of the advantage of the Indian mulberry-head, with its tighter bend that allowed for greater control, than the more open-faced English stick. Yet, Dhyan Chand's mastery was achieved with the traditional English ash, whose bend could not be compressed much.
In fact, Indian stick-manufacturing began in earnest when British goods stopped coming to India at the onset of World War II. By then, Dhyan Chand's Olympic career was over.
Technique in some basic matters had to be different. While it is common now to trap the ball with the stick parallel to the ground, in Dhyan's time, one received the ball with the stick vertical. It was necessary to concentrate on the line of the ball, taking care to control it with the head.
Besides all else, Dhyan Chand was an exemplary sportsman. And in any appreciation of his skills, his great positional sense and mastery of passing are as significant as his body-swerve and quicksilver stickwork.
"Never," he used to tell his men, "pass the ball unless you see the man it is intended for is in a position to receive it." According to his 1936 team-mate A. I. S. Dara (later Pakistan's first captain), "Dhyan, though he never possessed great speed, had the astounding knack of spotting a gap before it was there."
It is interesting too to note the retrospective view of a teenage schoolboy. The late Phil Appleyard, for some years the FIH treasurer, had been at the 1936 Berlin Olympics as a 13-year-old, and saw India beat Germany 8-1 in the final. He talked about it in Delhi in 1995, nearly 60 years later. His lasting impression of the final was not so much of Dhyan's mesmeric dribbling, but that the Indian captain was very much the general of his side.
Yes, Dhyan Chand was a small man, but he had a great on-field personality. And he had wrists of steel which made his hits very powerful, and his use of the push and flick so effective.
Each age throws up its own heroes. Akhtar Rasool, Bovelander, Sean Kerly, Peter Krause, Paul Litjens, Ron Riley and Shahbaz are some of the random names that flit across one's mind. But the greatest?
Twenty four years ago, when previewing the first Olympic hockey competition to be held on synthetic turf, this very magazine recorded, "Dhyan Chand would remain, for several generations to come, the most representative example of individual skill in hockey."
Amen to that, in the year 2000.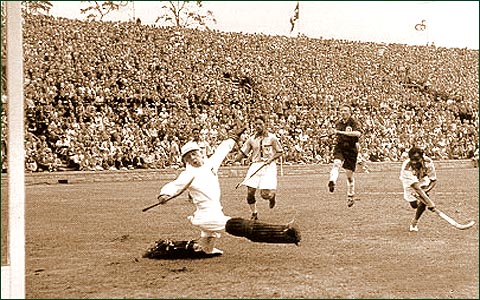 Dhyan Chand - Player of the Century