Dhyan Chand - The Indian Wizard
Col. Ali Iqtidar Shah Dara - World Hockey Magazine (March-May 1970)
Cricket may affectionately recall its Grace, Hobbs and Bradman, and soccer its Matthews and Puskas, but there was only one Dhyan Chand in hockey, incomparable and unique. There can be no argument about the claims of this maestro as the all-time great of hockey.
In his peak playing days before World War II, Dhyan was referred to by one superlative after another - Juggler, Magician, Wizard. Whatever he was called, there was no doubt that this lightly-built hockey genius was a giant among players.
The secret of his greatness laying in making the game look easy. He employed the minimum of perspiration and the maximum of inspiration. Without any apparent effort or strain, he managed to achieve matchless results.
He could score from such impossible angles in a game, that when called upon to repeat the feat in practice, he was at a loss to explain how he had done it. A born genius, he improvised new tricks on the spur of the moment to dazzle and baffle.
Dhyan never possessed great speed; in fact he was on the slow side. Yet he had the astounding knack of spotting a gap before it was there, and thereby outwitting his opponents.
His brother, Roop Singh, on the left, and myself on the right, were the beneficiaries of his remarkable ball distribution. Once inside the strking circle, he struck like lightning, acting so fast and with such force, that even the best goalkeepers in the world were left guessing and beaten!
During India's tour of Australia and New Zealand in 1935, Dhyan scored 201 goals in 43 matches. He had mastered the art of deception to perfection. Rarely did he employ the hit to achieve his goal. Invariably, it was the low, thrilling, fast push which would beat the goalkeeper hopelessly.
Even in the midfield, it was timing rather than speed which fed his fellow teammates. Whenever we tried to outpace him through speed, Dhyan would shout at us, saying, "What's the hurry? Go slow."
Dhyan was born in Allahabad in 1905. For generations, his family had served with an Indian regiment, and as a sepoy, he learnt his hockey from British Army officers.
I had the privilege to play with and under him for India, and many a time played against him as we belonged to the same regiment. He was a thorough gentleman and a true sportsman who never lost his temper.
During the final of the 1936 Olympic hockey tournament, the Germans decided to play rough after 6 goals had been scored against them. Going for Dhyan, the German goalkeeper removed one of his teeth.
Coming back after receiving first aid, Dhyan instructed us not to score any more goals. "We must teach them a lesson in ball control," he said.
So we repeatedly took the ball up to the German circle and then back-passed to dumbfound our opponents. We ended up beating Germany 8-1, with Dhyan scoring 6 times.
In one match in the 1932 Los Angeles Olympics, Dhyan Chand and his brother Roop scored 19 goals between them. Dhyan won gold medals in 3 successive Olympics, and but for the War, would have undoubtedly collected more, for he was still playing for India in 1946.
Dhyan belonged to the real Oriental school of hockey, which was slightly different from the one displayed in the former Punjab. Both Dhyan and his brother Roop, who each represented India on many occasions, owed their masterly ball control to the fact that they bent low over the stick. For this reason, both were always vulnerable to injury.
The degree of ball control that Dhyan possessed was not possible without this crouching style. Others employed robust tactics and tried to get past an opponent through speed and thrust, but not Dhyan. With him, it was sheer artistry and nothing else.
A sports club in Vienna built a statue showing Dhyan Chand with four hands and four hockey sticks, as if he were some sort of a deity. To those Viennese, at least, he certainly was because they said no ordinary man with two hands and one stick could play so well!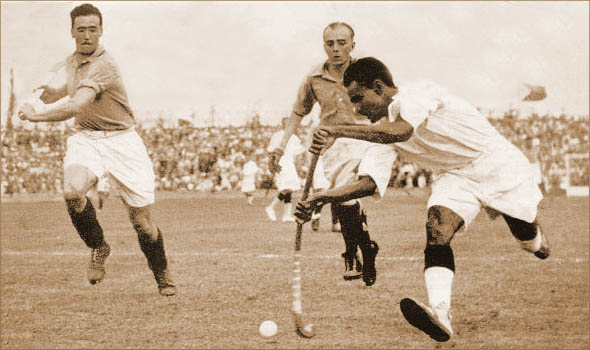 Dhyan Chand the Magician! - Playing for India vs. France in the 1936 Olympic semi-finals. India won 10-0.
Photograph courtesy : Agentur Schirner